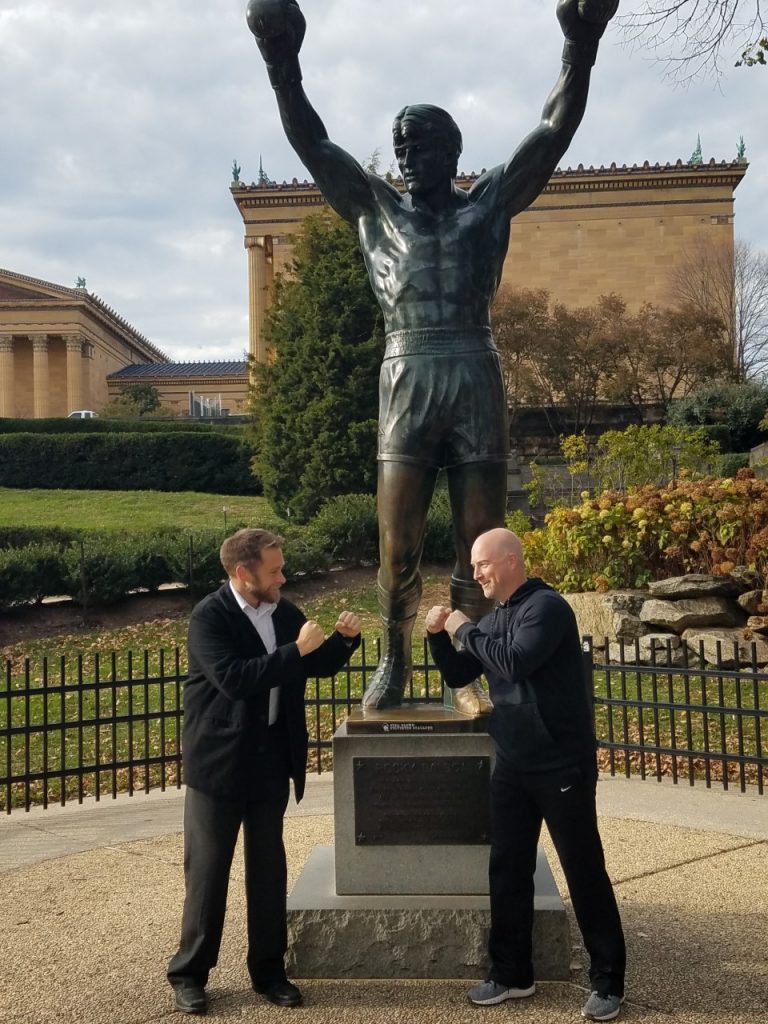 In Fall 2019, several members of the BEACH Lab headed north to represent USC at the American Public Health Association (APHA) Annual Meeting in Philadelphia, PA. This year's conference theme was "Creating the Healthiest Nation: For Science. For Action. For Health." which engaged APHA attendees to consider the important role of prevention in our current public health research and practice. BEACH Lab members attended meetings, shared research through posters and presentations, and had fun exploring the City of Brotherly Love.
The Director of the BEACH Lab, Dr. Andy Kaczynski, wrapped up his term as the Past Chair of the APHA Physical Activity Section and has enjoyed seeing all the progress the Section has made in the past decade. As part of his current positions on the program and awards committees, he judged several presentations and posters at this year's conference. He was also a co-author on several student abstracts as well as with a USC Nursing colleague, Demetrius Abshire. As evidenced in the picture below, Demetrius and Andy also had some fun exploring Philly, including visiting the Rocky statue and steps at the Philadelphia Museum of Art. Demetrius even took home the Stephen P. Hooker Research Award for this presentation on Psychometric Evaluation of the Rural Active Living Perceived Environmental Support Scale.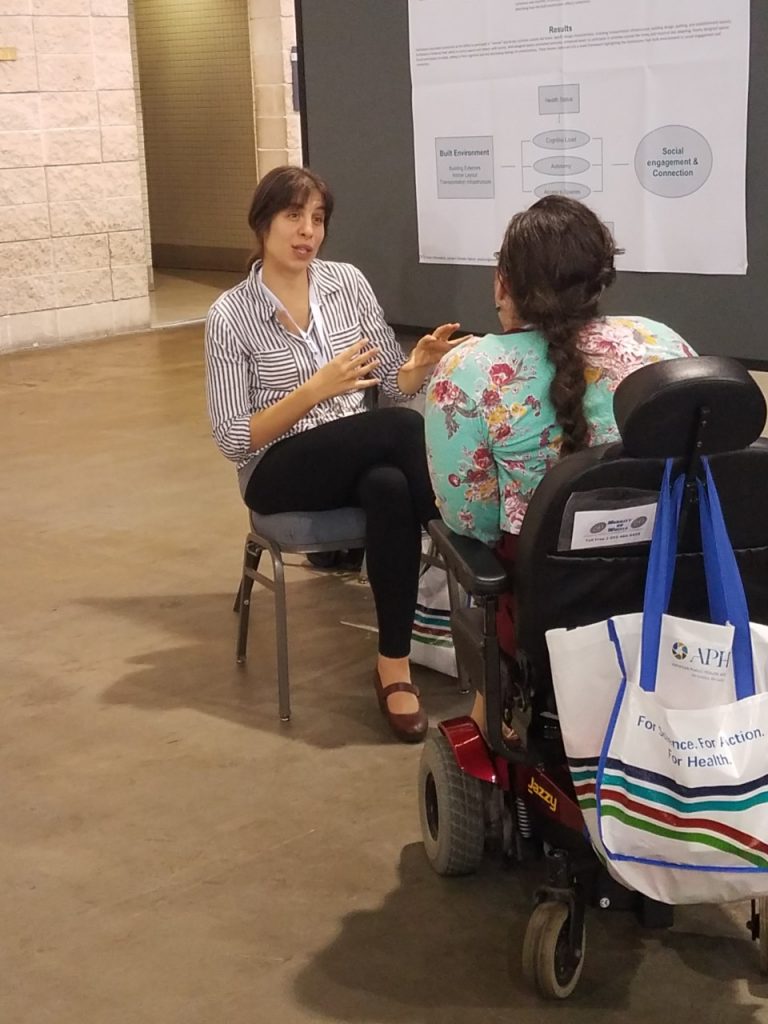 Shirelle Hallum, second-year doctoral student, presented her work entitled The Impact of the Built Environment on Social Engagement for those With Impaired Mobility. This qualitative study described how the design of public spaces, including parking infrastructure, building accessibility and interior layouts impacts individuals with ALS and their ability to maintain autonomy and participate in activities outside the home. Although policies (e.g., Americans with Disabilities Act) have improved accessibility of public spaces, additional efforts are required to eliminate barriers to social engagement.
Ellen Stowe, fourth-year doctoral student, and Marilyn Wende, third-year doctoral student, shared their work from the Childhood Obesogenic Environment Index Study. Presented by Marilyn, this poster was entitled Childhood Obesogenic Environment Index: Region and Rurality Differences Across the United States and focused on differences by region and county rurality in the overall Childhood Obesogenic Environment Index and in the individual variables that went into creating the index. Findings from this study indicated that the South and rural counties were the most obesogenic areas across the US. Also, the South and rural counties were most obesogenic for four of the ten index variables; in contrast, the Northeast and metropolitan counties were least obesogenic for four of the ten index variables. Findings from this study will ideally help target interventions that can address environmental inequalities that may contribute to geographic disparities in childhood obesity. To learn more about this study, check out the policy brief on the Childhood Obesogenic Environment Index here.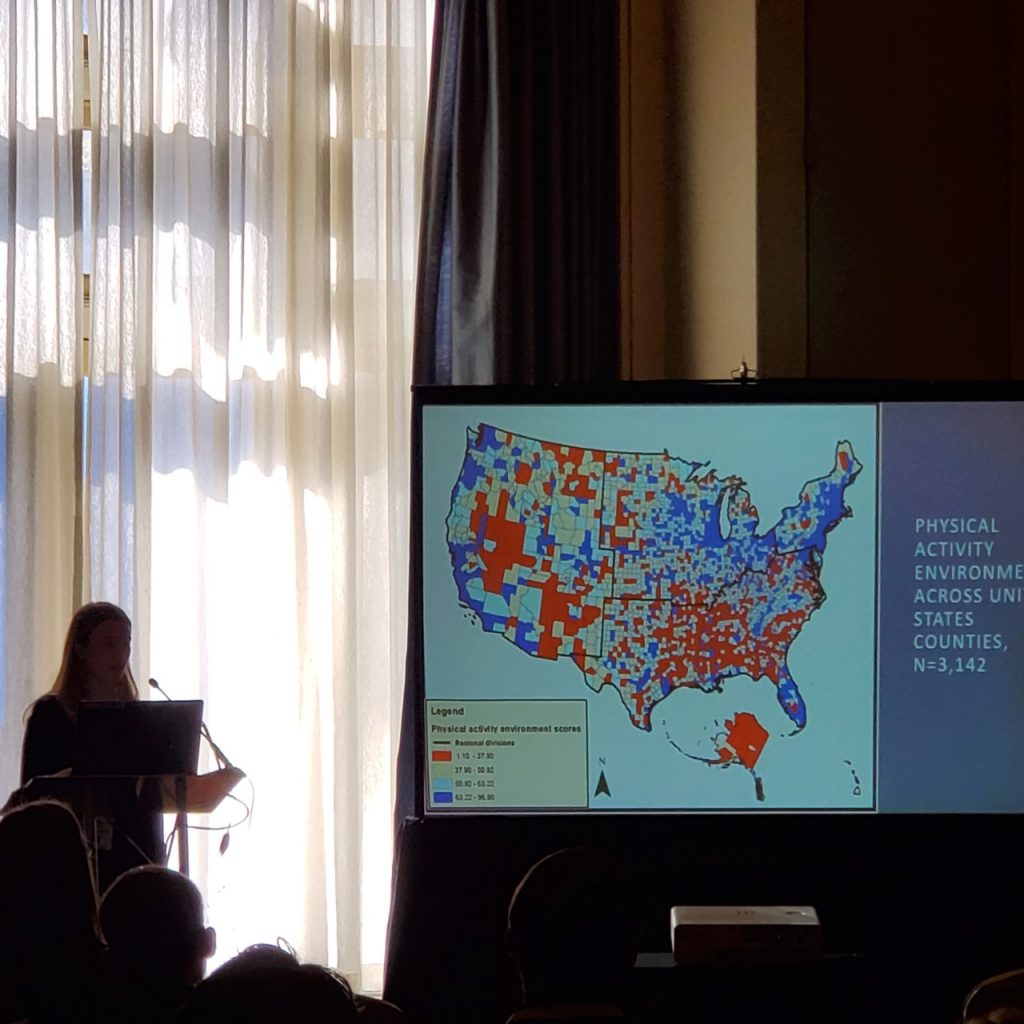 On Wednesday afternoon, Marilyn gave an oral presentation entitled Examining Spatial Clustering Patterns and Regional Variations for Physical Activity Environments in the United States. The purpose of the study was to examine the spatial clustering of positive and negative physical activity environments across the United States and to report differences in physical activity environments between rurality and regional divisions. The results demonstrated that physical activity environments are not equally distributed across the United States and that geographic disparities exist for access to important, health-promoting resources.
A special shout out to Marilyn for winning the 2019 Physical Activity Section 1st Place Student Oral Presentation Award. This is the fifth student presentation award won by members of the BEACH Lab in recent years – previous winners include Ellen Stowe, Morgan Hughey (with two wins!), and Gina Besenyi. Congrats, Marilyn!
Overall, it was a fun time in Philly and we look forward to representing USC at APHA 2020 in San Francisco!