Development and testing of mobile technology to engage youth in active living policy, systems, and environmental health promotion efforts
Modifying the built environment is a promising way to promote youth physical activity and reduce obesity. Parks are key intervention venues given their low cost and legislated ubiquity. However, creating healthy communities, including better parks, will require the interest and participation of multiple constituencies, including youth. Creation of mobile technology to conduct environmental audit tools can provide a more interactive way for youth and other citizens to engage with communities and facilitate participation in participatory action research (PAR) and health promotion efforts. The eCPAT project was a multi-stage effort to develop and test an electronic version of the previously developed paper and pencil Community Park Audit Tool (CPAT).

The purpose of the eCPAT pilot project was to develop and test the acceptability, feasibility, and efficacy of an electronic version of the Community Park Audit Tool with youth.  This first stage focused on the development and validity and reliability testing of an app version of the tool. The eCPAT application was developed using a five-phase process that included a comprehensive review of technology and health advocacy literature, key informant interviews, agile software and systems design, beta testing, and application refinement. The resulting pilot eCPAT app consisted of two main interface screens, including a home page and a scrolling data entry screen with four main headings (e.g., park information, access and surrounding neighborhood, park activity areas, park quality and safety). The app incorporated numerous technology features to enhance functionality and promote user engagement, including an information button with instructions and example pictures, as well as camera, GPS, answer validation, and wireless data transfer capabilities.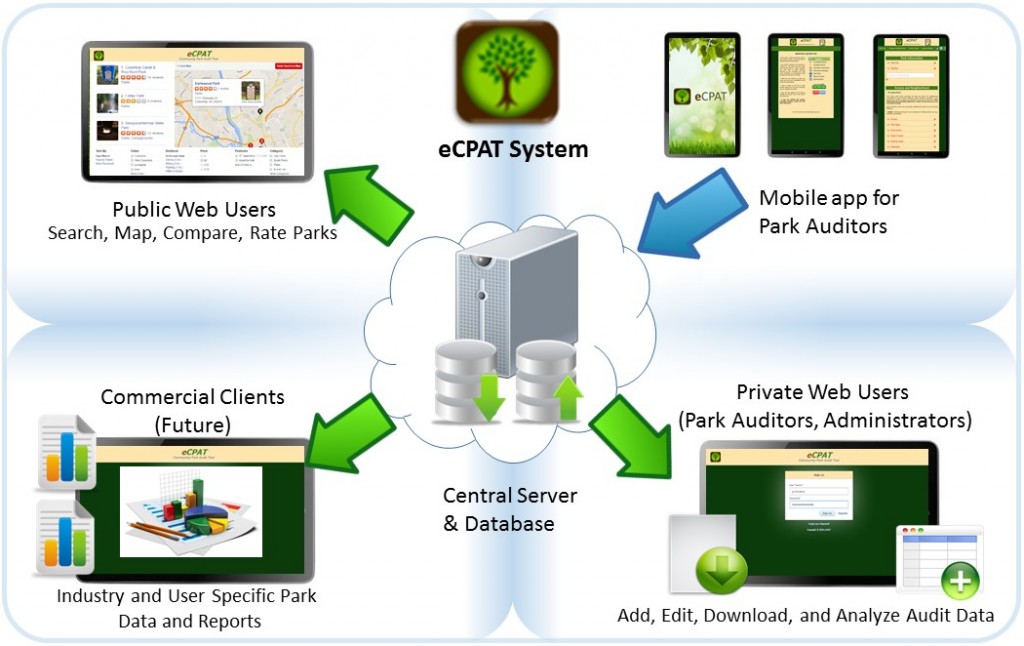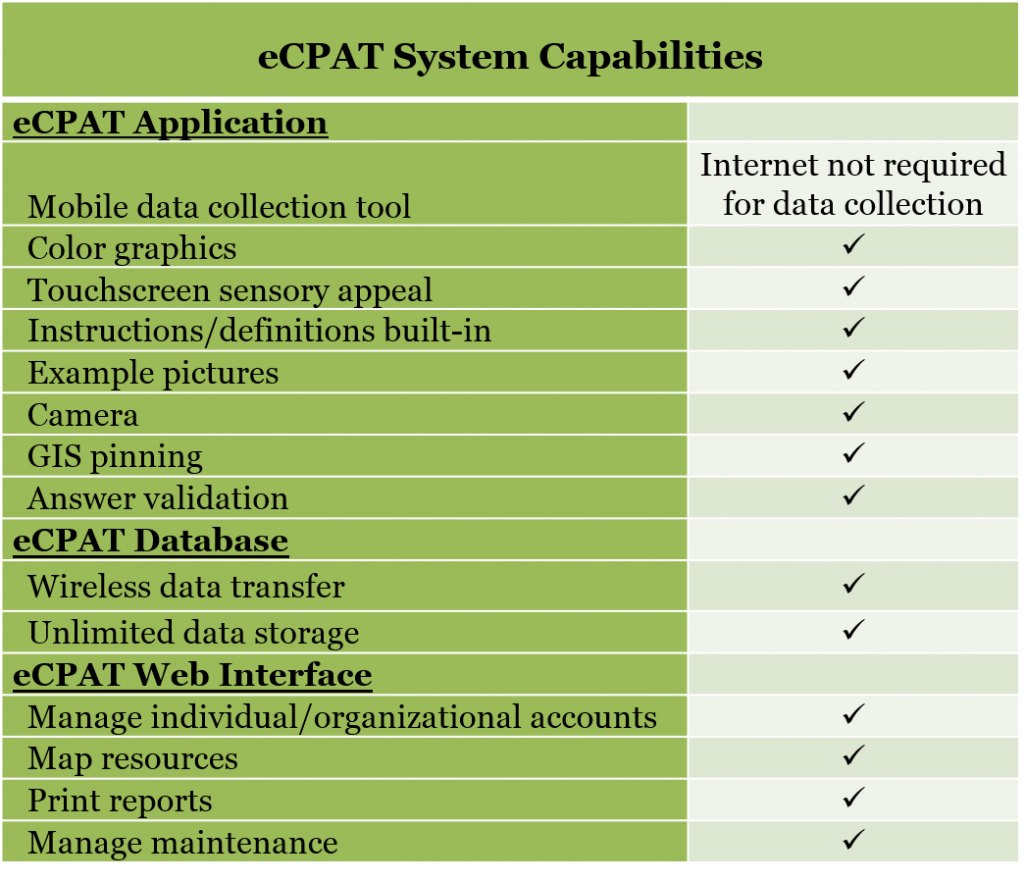 Criterion-related validity and inter-rater reliability were evaluated using data from 52 youth across 47 parks in Greenville County, SC. A large portion of items (>70%) demonstrated moderate to perfect or fair validity and reliability. Many items demonstrated excellent percent agreement. Findings from the testing stage with use are described in this article.
The second stage of the project explored the effects of eCPAT mobile technology on youth empowerment and advocacy within a PAR framework and examined tool usability, effectiveness on youth empowerment and advocacy, interaction effects between tool format and regular technology use, and tool format preferences. A total of 124 youth were randomized into one of three study conditions (Control, Paper, eCPAT). Intervention youth completed two park audits using paper-pencil or mobile technology tools. Youth completed pre and post surveys that measured tool usability and preferences, technology, empowerment, advocacy, and youth demographics. Youth indicated that the eCPAT tool had higher usability scores, was better liked, and was preferred over paper-pencil methods. Findings from the second stage of the project are described in this article. Mobile technology should be viewed as a potential strategy for increasing youth empowerment and advocacy given its ubiquity, usability, and preference among youth.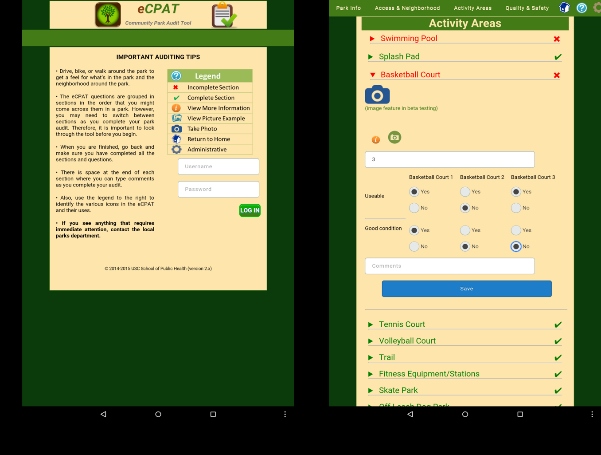 Funding
The eCPAT pilot project was supported by a grant from the South Carolina Clinical and Translational Research Institute.
eCPAT NIH STTR Phase I Project
Further development and testing of the eCPAT system was recently conducted through a Small Business Technology Transfer Research (STTR) Phase I award from the U.S. National Institutes of Health (National Cancer Institute). This project was a collaboration between EnQ (small business awardee) and the University of South Carolina, in partnership with Kansas State University and the University of Missouri. More information about study activities and finding will be released soon.
More information
For additional information, please check out our presentation at the 2015 National Recreation and Park Association Annual Congress by clicking here. If you'd like to use the CPAT or eCPAT tools, feel free to contact us:
---
Gina Besenyi, MPH, PhD
Department of Kinesiology
Kansas State University
gbesenyi@ksu.edu
---
Andrew Kaczynski, PhD
Arnold School of Public Health
Prevention Research Center
University of South Carolina
atkaczyn@mailbox.sc.edu
---
Sonja Wilhelm Stanis, PhD
Department of Parks, Recreation, and Tourism
School of Natural Resources
University of Missouri
sonjaws@missouri.edu