On April 20, 2018, several members of the BEACH Lab participated in USC's celebration of student research, Discover USC. Dr. Kaczynski and Ellen Stowe both served as judges and enjoyed learning more about diverse students' research through the process. As well, multiple students in the BEACH Lab presented their research projects from the past year and took home numerous awards. Read on to learn more below!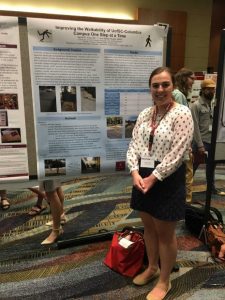 Sarah King, a second-year MPH student and member of the BEACH lab, had a poster presentation on her Graduate Civic Scholars project, "Improving the Walkability of the University of South Carolina (UofSC)-Columbia Campus One Step at a Time." This initiative explored the ongoing partnership among UofSC Student Health Services, UofSC Facilities, and the BEACH Lab to improve the walkability of the Columbia campus through environmental changes, including raised pedestrian crosswalks and the addition of over 30 yield to pedestrian signs across the university's campus. After the installation of the new pedestrian infrastructure, a post-survey was administered to UofSC students, faculty, and staff in the Spring of 2018 and was then compared to the pre-assessment survey collected in the Fall of 2016 to detect changes in participants' perceptions of walkability on the UofSC-Columbia campus. There was an increase in the percentage of participants who were familiar with the term walkability (+17.1%) and perceived sidewalks to be continuous throughout the campus setting (+6.5%). However, there was a decrease in the percentage of UofSC students, faculty, and staff who perceived the campus layout as encouraging physical activity (-13.2%). Sarah's poster ended up winning as the most outstanding poster and presentation within her session.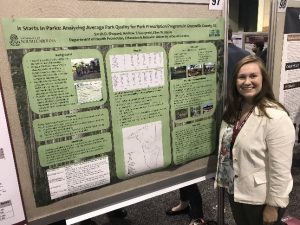 Also participating in Discovery Day was Sarah Shepard, a senior undergraduate student with the BEACH Lab. Her poster presentation, "It Starts in Parks: Analyzing Average Park Quality for Park Prescription Programs in Greenville County, SC" worked to complete the Parks Rx database—a national organization whose goal is to incorporate park visitation into a physician's treatment plan. Sarah worked to analyze each park in the Park Rx database to highlight each park's overall quality (using a Park Quality Index Score), safety, and amenity opportunities. It was concluded that significant differences between Greenville County's parks exist with regards to accessibility, facilities, and quality concerns. The city of Traveler's Rest within Greenville County had the highest total Park Quality Index Score. The analyses of factors that comprise public parks (access, facilities, amenities, quality, aesthetics, and neighborhood) provide valuable insight into the disparities that exist between parks in the various municipalities within Greenville County. Sarah went on to provide physicians with possible park recommendations for certain patient populations (e.g., children, older adults, ADA accessible) based on park scores. Sarah's poster also ended up winning in her session.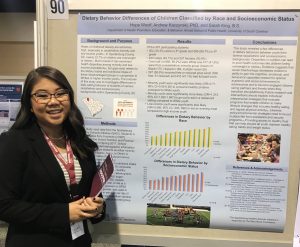 Hope Woolf, a recent graduate of the Arnold School of Public Health, also presented her work with the BEACH Lab at Discover USC Day. With mentorship from Sarah King (see above) and Dr. Kaczynski, Hope was able to present her work entitled, "Dietary Behavior Differences of Children Classified by Race and Socioeconomic Status." The purpose of this study was to investigate differences in daily eating behavior of students of various racial/ethnic and socioeconomic backgrounds within Spartanburg County, SC, where nearly 33.7% of children are overweight or obese. Hope used data from nine schools that were a part of the Spartanburg Healthy Schools Initiative (SHSI). The results found that minority youth were significantly less likely to consume healthy proteins or go out to eat in a restaurant setting as compared to White youth. Also, low-income youth were significantly less likely to eat an evening meal. The implications of her research show the importance of nutritional disparities in youth that can be attributed to things like food accessibility or insecurity. Hope's poster earned an Honorable Mention in her session.
​