Greetings All! From Saturday, November 4th to Wednesday, November 8th, the BEACH Lab attended the 146th Annual Meeting of the American Public Health Association at the Georgia World Congress Center in Atlanta, GA. APHA is the largest public health conference in the nation with over 12,000 attendees, and this year's conference theme was "Creating the Healthiest Nation: Climate Changes Health." The BEACH Lab had veteran and first-time attendees at APHA, and the conference was undoubtedly an exciting experience for both!
Head of the BEACH Lab, Dr.  Andy Kaczynski,  completed his term as Chair of the Physical Activity Section. This included overseeing the Section's business meeting where the Section executive committee reviewed accomplishments from the past year and set goals for the upcoming year, as well as the first-ever Student Engagement Meeting that was a well-attended success. At the culminating social event, Andy passed the Chair baton to Libby Richards from Purdue University and he will continue on the PA Section executive committee as Past-Chair for the next two years.
With the conference in full swing on Monday afternoon, Sarah King, a second-year MPH student in the BEACH Lab, presented during the Physical Activity Section's poster session "Exploring Physical Activity through Varying Contexts."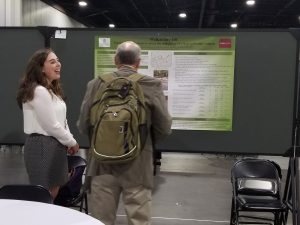 Sarah's poster was titled, "Walkability 101: Using multiple methods to assess the walkability of a large university campus in the southeastern United States." The project included both environmental audits and surveys about perceptions of the campus environment from students, faculty, and staff to assess the walkability of the University of South Carolina-Columbia campus. Sarah's presentation was nominated for the best student poster award in the Physical Activity Section!
Also during Monday afternoon's poster session, Ellen Stowe, a second-year doctoral candidate in the BEACH Lab, presented findings from on-going work with ParkIndex project. Ellen's poster, titled "ParkIndex: Key informant perspectives on the development of a standardized national park access tool", reported on the results from key informant interviews with academics, public health professionals, and parks and recreation professionals on the content, value, feasibility, and dissemination of ParkIndex. For this outstanding project, Ellen received the Physical Activity Section's award for best student poster!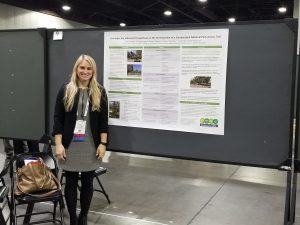 Also, congratulations to both Sarah and Ellen, as they were awarded Arnold School of Public Health Travel Grant awards to present their research at this year's conference.
Monday evening, current – Andy, Ellen, Marilyn, and Sarah – and past – Gina, Stephanie, and Morgan – BEACH Lab members walked to a local restaurant after a long, but successful day at the conference. This was a great and much appreciated opportunity to catch up with BEACH Lab grads and discuss our current projects and conference events.
On Tuesday morning, we attended an oral presentation by BEACH Lab alum Morgan Hughey. Morgan's presentation, titled "Park Hop: Barriers and facilitators to children and families' participation in a park-based physical activity intervention in Greenville, SC" described the barriers and facilitators of a children and families participating in a park-based scavenger hunt program designed to increase park use and park-based physical activity.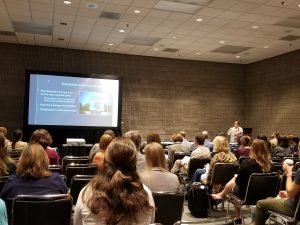 This innovative program was coordinated by LiveWell Greenville and evaluated by the BEACH Lab for the past four years. Morgan was not only nominated but won the best student oral presentation award in the Physical Activity Section. Congrats Morgan!
A special shout out to first-year doctoral student Marilyn Wende for attending APHA and supporting her fellow BEACH Lab members throughout the week!
For Marilyn, Sarah, and Ellen, this was their first time attending APHA. The conference was full of excellent research and numerous networking opportunities and ultimately proved to be a valuable experience.  The BEACH Lab members were privileged to attend and look forward to next year's APHA Annual Meeting in San Diego, CA!